How we're dealing with the coronavirus
Life has a funny way of working out. 2 weeks ago we were on track to have our best month of sales in our 2.5 years of trading! Fast forward to 2 weeks later and just like many other businesses and most of you many things are feeling very uncertain here at Kahmune HQ.
As you are all aware our shoes and bags are sourced and manufactured in Italy. Home to the largest outbreak in Europe, as of 3 weeks ago all of our suppliers have stopped operations. 2 weeks ago our manufacturers followed suit and sent all of their workers home.
We have been in constant contact with our Product Manager and and can confirm that our entire team is safe and sheltering in place. As of today, they have no idea when they will be able to return to work. The main concern that has been communicated is whether or not the employees employed by our factories will have jobs to return to.
We are doing all that we can to maintain our operations the best way that we can given the current envrionment. Our warehousing and fulfillment services have been US based since January. We  are following both state and shipping guidelines in order to continue to fulfill all orders.
As many of you know, we had upcoming plans to launch a crowdfunding campaign in order to raise funds to introduce our patent & suede collections as well as our new platform sandal. How does it work? You preorder our at up to 30% off of retail prices. Once our campaign is over we will produce and and then fulfill all orders- hopefully  in time for life to resume as normal! Additionally, we will temporarily reinstate global shipping in order to accommodate orders from our Kahmunity outside of the US and UK.
Although we recently considered cancelling the campaign we are considering moving forward and this is why:
1) Our shoes and bags are produced by small "mom and pop" shops. The men and women who handmake our products rely on our business to support themselves and their families. If we can launch a successful campaign and have orders waiting for them when they are able to return to work then I am determined to do so.
2) One of my longterm visions for Kahmune has always been to create jobs. With all of the financial strain over the last few weeks and the shrinking economy this is something I'd like to prioritize. A successful campaign would ensure we were able to onboard staff here in the US for everything from fulfilment to design.
3) Like many of you the current situation has made us want to do all that we can to help others in need. Following a successful campaign, we would like to pledge a portion of our inventory to anyone within our Kahmunity or beyond that is in need or has been significantly impacted as a result of COVID-19. We would love your help to identify single mothers, recent graduates, or those recently laid off to offer a percent of our proceeds in the form of a gift card.
If you would like to support our campaign please sign up to receive notification of our launch with the link below. A successful campaign ensures Kahmune will continue to exist once this is all over.
To our fellow business owners; those that have been laid off; and those whose loved ones have been impacted directly by the coronavirus, our thoughts are with you all during this tough time. To our parents juggling the demands of work and homeschool your children, we salute you. To our educators we thank you for your service and your dedication to our youth.
PLEASE stay safe Kahmunity! Let's continue to be kind, help others, and lift each other up. We will get through this!
All my best,
Jamela A Acheampong
Founder and Brand Director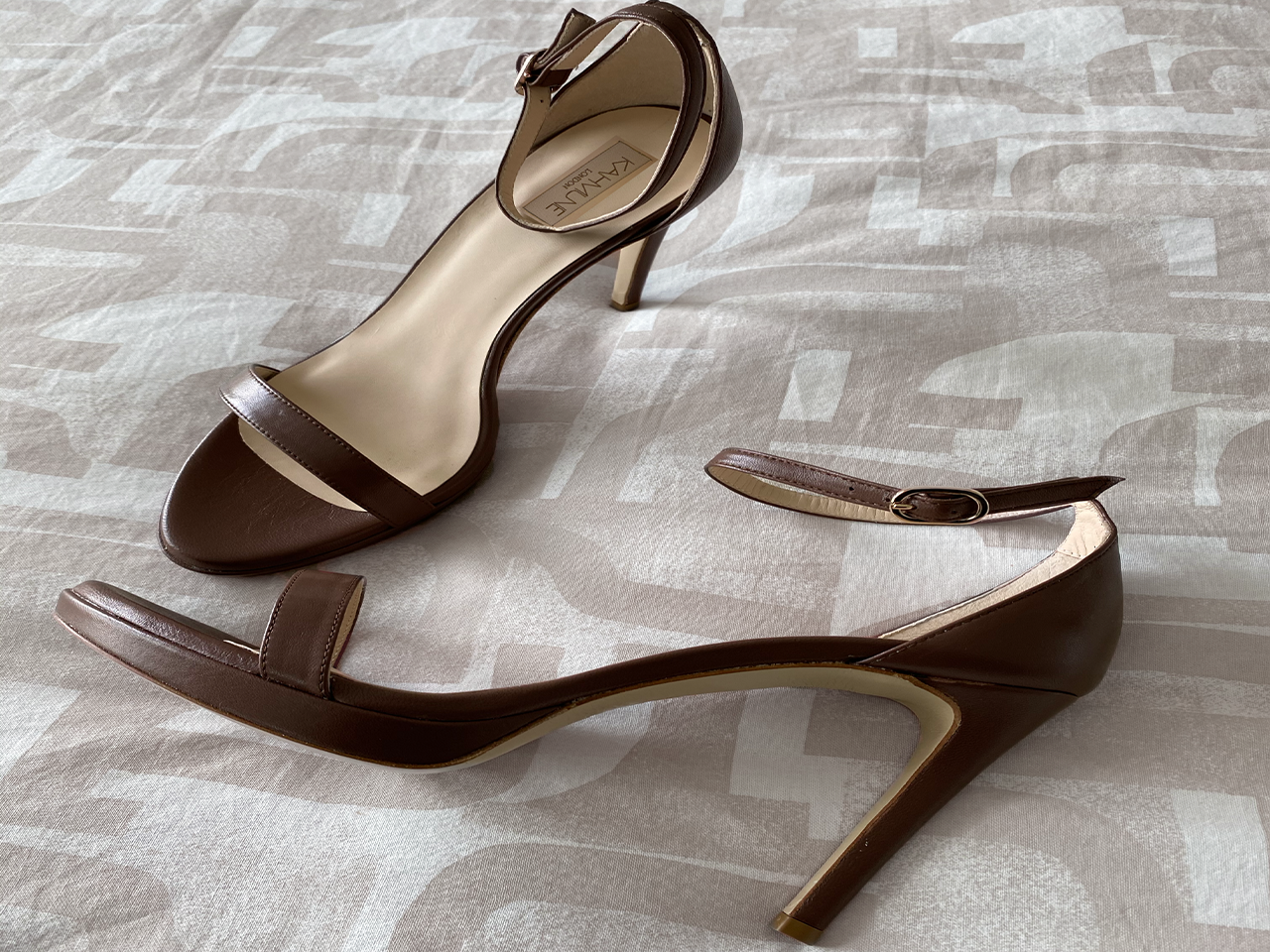 95mm (3.75in) Heel. - 20mm  (0.75in) platform. -  Stiletto Heel
6mm foam padding. -  2cm straps. -  Gold Hardware
Our new sandal will be available in Nappa, Patent, or Suede exclusively through our campaign.
---